Formerly called "Mambo"
Lovely views of the countryside and the sea from the shaded terrace.
A charming, air-conditioned, detached house for 4 people, in a one hectare property in the countryside, with a lovely sea view from your terrace.
Large bay windows and lots of light.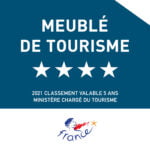 DESCRIPTION AND FITTINGS
Approx. 50sqm, 1 bedroom and a mezzanine
Open kitchen: bar table, 4 stools, cupboard, mini oven, dishwasher, washing machine, fridge and freezer, coffee maker, toaster, electric barbecue.
Living room: white leather sofa, coffee table, sideboard, flat screen TV, DVD player, wrought iron round table, armchairs, etc…
Bedrooms: double bed, bedside table, cupboard with wardrobe and shelves, large shelf, straw armchair. Mezzanine in the living room with double bed.
Bathroom: Italian shower with washbasin and cabinet, cupboard, hairdryer. Separate toilet.
Terrace with deckchairs, round table and wrought iron chairs, sideboard.
Air conditioning, Internet (High speed fiber connection)
---
---
From 110€/night
(price of your stay calculated by selecting your dates in the calendar below)